When you search for mobile poker games, you will find that not many actually let you win real money. Most of the poker games you will find for your mobile devices are simply fun games that let you compete for in-game money, giving you the thrill of the win without actually giving you any cash after winning. But what if you are in it to win it and want to actually win real money that you can spend on yourself in real life?
There are a number of poker games online that do let you win real money that you can cash out after winning. There are real-money games for android and a few for iPhone as well. You can also play some of these real money poker games on a variety of platforms and devices. You can switch from your PC to your tablet to your mobile phone easily simply by logging in to your account on your selected device so you don't miss out on any game as you go about your day.
To help you find the best mobile poker games that allow you to win real money while competing with other players around the world, here is a list of some that you can try out:
Poker Stars – this is an online poker game that lets you play on a variety of platforms, with a variety of poker games to choose from. Pick from games such as Texas Hold Em, Stud, Omaha and more to win cash as you compete against other poker players online. You can also choose from a list of innovative poker games that come with unique formats and challenging gameplay to spice things up a bit.
If you are unsure of your poker playing skills, you might want to practice a bit with the fun mode of this game. Once you have honed your poker skills, you can then jump in on one of the many cash games that are happening in real-time with this app. Win big and cash in on some of the live poker tournaments and games that you can find on this app.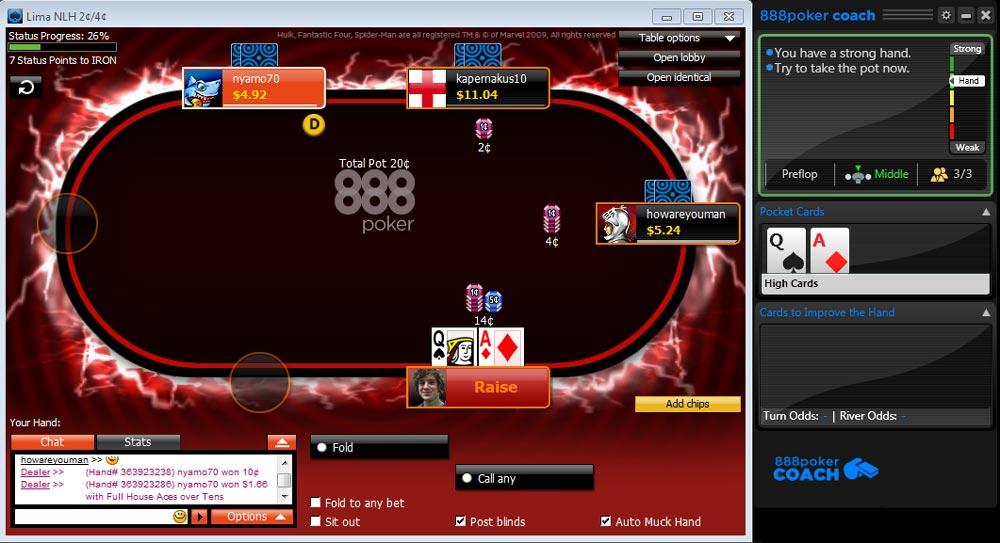 888 Poker – another notable real-money poker app is this one developed by Cassava Enterprises. This mobile poker app can be played on both android and iOS phones since it can be found on both Google Play and the App Store. This game is considered one of the best real-money poker games around because of the ease of play and the many poker game choices you have.
The games you can choose to win real money from on this app include the usual Texas Hold Em, Omaha, and 7-card Stud. New players get to enjoy an $888 bonus on their account when they sign up and deposit their first gaming amount. You can use a variety of deposit and cashout options for this game, which includes Visa, Mastercard, and PayPal. For those who want to try out the game before depositing any money into it, a no-deposit $88 bonus option for trial play is available.
Partypoker – this mobile real-money poker app entices players to join up with the lure of a $22 bonus upon signing up and a cashback of up to 40% every week, depending on how much you deposit. The $22 bonus is awarded to the player within 48 hours and should be used in 7 days since it has an expiration date. The cashback reward, on the other hand, is dependent on how much you deposit into your game, with each dollar generating one point and the cashback calculations depending on how many points you accumulate at the end of the week.
The poker games you can play on this app range from Texas Hold Em, Omaha, and 7-card Stud. Some of the games on this app have betting limits, with some having a very low minimum of $.05 and a high maximum of $100. To enjoy this game, you first need to make an initial $10 deposit, which also entitles you to the $22 bonus.
Bovada Poker – one of the oldest online poker games that can be played by US players is this real-money app that is run by Ignition. This app allows players to choose from three types of poker games, namely Texas Hold Em, Omaha, and Omaha Hi/Lo. This app can be downloaded and used on iOS devices, android, Apple devices, and windows PCs.
When you register for this real-money poker app, you are required to make a $25 minimum deposit with a 100% sign-up bonus that you can use within 30 days of registering. This means that if you deposit $100 when you register, you get the same amount in the form of an ingame bonus. There is a catch to the bonus you get however, since there is a $500 set limit for this.
Ignition Poker – while technically a casino app, the Ignition Casino app does have a poker room that you can play real cash bets in. This real-money online poker game can be played on your windows PC, Mac, iPhone, and Android phone or device. The poker games that you can choose from on this platform are only Omaha and Texas Hold Em, but these come in a few different betting limits, with the lowest possible bet being $.02 and the maximum betting limit being $60.
This app allows you to earn up to 100% bonus for deposits of up to $1000. That means you can have twice the money to bet on your games when you sign up. You can deposit using Visa, Mastercard, and Bitcoin. Payouts however can only be done via check, Bitcoin, and wire transfer to your bank account.
Bet Online Poker – one of the real money poker apps that comes with a wide selection of poker games for you to choose from is BetOnline Poker. This game has 5 poker games for you to choose from, and these include 7-Card Stud, Americana, and 32 Card Draw, apart from the standard Omaha and Texas Hold Em options. This means you have more poker game types to win real money from.
The game gives you up to 100% bonus on deposits of up to $1000 upon signing up, with an additional $135 in free bets for your gaming pleasure. Payments to this app can be made in a variety of ways that include cash and wire transfer, Ethereum, Bitcoin, Neteller, Visa, and Mastercard. Payouts can also be done in many different ways, which include check, wire transfer, Bitcoin, via your ATM card, and through Neteller.
America's Cardroom – from the Winning Poker Network comes this real-money poker app that lets you play the three most played poker games you can find, which are Omaha, Stud, and Texas Hold Em. Having been around since 2001, this is one of the oldest online real-money poker games you will find. This game can be played on a variety of devices, and these include windows PC, Mac, iOS devices and Android devices.
Upon registering, you will be required to make a deposit but this deposit will come with a 100% bonus for deposits of up to $1,000. You also get 20 free Jackpot poker tournament games with your deposit. To deposit money into this app, you can use Bitcoin, Ethereum, Litecoin, Visa, Mastercard, and even Western Union money transfer. To withdraw your winnings, you can have the site use the same cryptocurrencies mentioned above, money transfer, and by check.
Breakout Poker – while not available to US players just yet, this game is still worth mentioning because of its amazing bonus and no deposit requirements. People who register to play on this app can get up to 200% bonus on deposits of up to $1,000. Those who opt to register and play without depositing also get a chance to play for real money since they are given an $8 bonus simply for signing up.
The poker games that you can find on this app, which can be played on all four options (Mac, Windows PC, iOS, Android), are Texas Hold Em and Omaha. As limited as this may sound, they do have a wide selection of rooms that you can choose to play in. You can cash in via a long list of online pay options and cash out via cryptocurrency, bank draft, and Instant Banking.
UniBet Poker – EU players will definitely enjoy this game, but US players are not yet allowed to get in on this real-money player action. One of the reasons why people opt to download and play this game is because of the lure of the 20-Euro no-deposit bonus. This means you can start playing for real money on your poker games with free money by simply signing up.
The games that you can play on this platform include Omaha, Banzai, and the usual Texas Hold Em. As with other games like it, deposits can be made using Visa or Mastercard and Paypal along with other online payment portals. Cryptocurrencies are not yet an option for this platform.
Titan Poker – this game has been around since 2005, but sadly it does not allow US players to enjoy it. It is still considered one of the best online poker choices for real-money play around since it gives you a 200% bonus on your deposit of up to Euro 1,500. It also gives you 20% rakeback, making it one of the harder-to-resist poker apps around.
The games that you can play on this app include Omaha, Texas Hold Em, and 6-plus Hold Em. Minimum bet for the tables in this game is at Euro .02 while maximum bet is at Euro 40. Cash-in can be done using Visa, Mastercard, PayPal, Bank Transfer, and a few other online payment options. Cash-out can be done using Visa, Mastercard, and Paypal.
Finding the Best Mobile and Online Poker Game for Your Money
Choosing the best online and mobile poker game for your playing and winning pleasure can be somewhat tricky, especially if you are looking for one that has the kind of gameplay you are looking for. Not all of these apps can ensure that gameplay will be smooth and some even suffer from bog-downs and hanging issues that can frustrate you, particularly if you had a winning hand. The trick to finding the best possible real-money poker game to play is in checking multiple review sites for insights on these options that you have.
You can also check the reviews and comments that people give regarding these gaming sites on the App Store or on Play Store before downloading and registering. These will give you an idea as to how real people have enjoyed, or not enjoyed for that matter, the game that you are considering playing. Checking out these reviews will help you determine if a game is worth your time and money, or if you are better off looking for another one.
When checking out your options and weighing in on whether you are making the right choice or not, always remember that some reviews may be somewhat biased. If the person giving the review is pissed at the game because of their losses, even though it is balanced and plays fairly well on a variety of devices, they can give it a rather low score and review. To get the bigger picture on a specific poker app, check more than one review and try to find professional reviews from objective sources that can give you the real score.
At the end of the day, what you choose can make you win big or lose a huge amount of money. This is why making the right choice is crucial. You also need to consider the payout options that these sites have. If they don't have the kind of cash-in and cash-out options that are convenient for you, then you might be better off looking for one that does have what you can work with.
Also, make sure that the app you are downloading and planning on using is legal in your part of the woods. If it is not, you might have some trouble on your hands, not to mention difficulty in cashing out the money you won in your games.